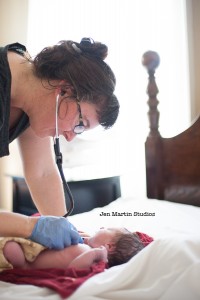 Mary Burgess, LM, CPM, MA
700 Dupont Street
Bellingham, WA 98225
Moonbelly Midwifery & Sacred Pregnancy Bellingham
(360) 510-0188
I bring a dozen years of experience as a doula, childbirth educator, student midwife, and now midwife. While I am one of the newer midwives in the Bellingham birth community, I have served many hundreds of mothers and families in many capacities. It is an incredible joy to participate in the birth of a baby, and an honor to witness the birth of a mother and family.
After receiving my academic training at the Midwives College of Utah, I continue on as faculty and sister circle mentor. Through the years, I apprenticed with many local midwives and teachers from around the world. Now, I offer my own unique blend of modern midwifery practices and ancient midwifery arts, including herbs, essential oils, homeopathy, and the option of an integrated childbirth class. A former audiologist, I also offer high-quality newborn hearing screenings.
I believe in and offer Informed Consent and Shared Decision Making, and truly enjoy witnessing a woman find her voice and step into her power as a mother.
I am thrilled to see you in my new office space in the Shanti Center for Bodywork & Wellness Practitioners, located at 700 DuPont Street, Bellingham. It's a little blue house on the corner of DuPont and C Street, bathed in soft ocean breeze, near the downtown post office. Main entrance and parking is in the rear of the building off C Street. Here, I'm surrounded by amazing practitioners of healing work, in a peaceful setting.
I enjoy working with women and families of diverse backgrounds. I strive to provide compassionate, deeply nourishing, and culturally sensitive care. A highlight of my care includes extra supportive postpartum care to help mothering and breastfeeding off to a good start, and enjoy incorporating cultural foods preferences that help build strong, healthy mothers and babies.
Another interest I hold is in the midwifery care and support of mothers who have previously experienced a difficult or distressing birth. I believe that pregnancy, birth and postpartum are portals for our deepest healing and provide opportunities for immense love. It is here that we gather our courage and remember the incredible strength of women. Birth is, by nature, a profound, extra-ordinary experience.
With my whole heart, I believe that midwives can be part of the necessary change toward vibrant, empowered and thriving mothers and babies. Peace on earth really does begin at birth, and how women and babies are treated throughout the childbearing year.